Deciding to invest in a pool is a serious commitment that requires proper consideration and also requires you to be financially ready to commit, but once you've deciding to pool the trigger on calling your local pool builders to start the job, you need to make sure that you're doing it at the right time. As we progress into the mid-summer months, you should realize that many people are already near the end of their pool building process, as they tend to contract pool builders months ahead of summer to ensure that they are ready to enjoy their pool as soon as possible. But, if you're not too worried about having your pool this summer and you're only looking to be ready for next year's summer months, you should consider getting a head start.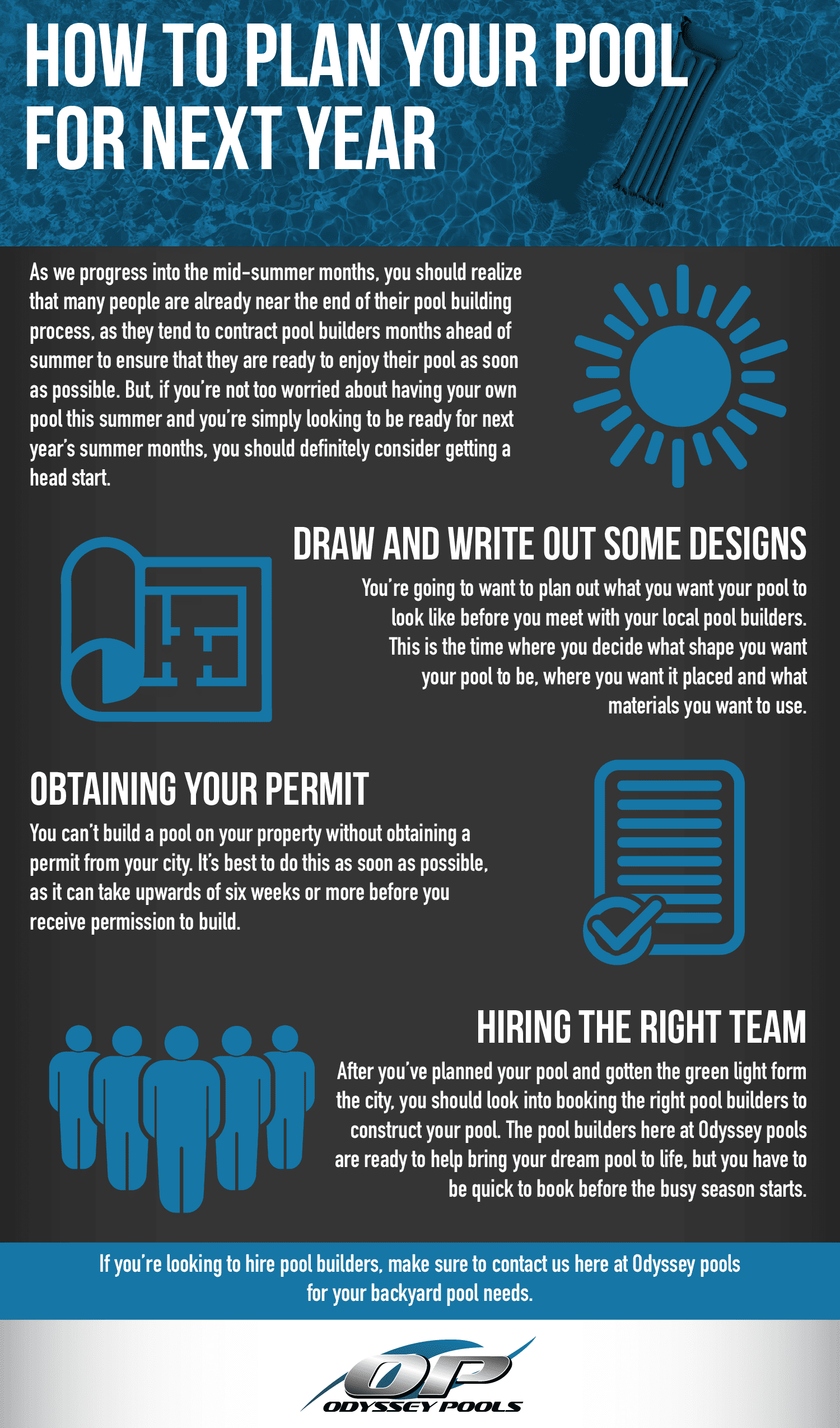 Pool builders can get completely booked out during the summer months, so you need to act quickly if you want to land an ideal timeframe for the completion of your pool. The best way to do this is by beginning the planning process so that you can show your pool builders precisely what you envision so that you can enjoy a smoother pool building process. Here is how you can plan your pool for next year.
Draw and Write Out Some Designs
 You're going to want to plan out what you want your pool to look like before you meet with your local pool builders. This is the time where you decide what shape you want your pool to be, where you want it placed and what materials you want to use.
Obtaining Your Permit
 You can't build a pool on your property without obtaining a permit from your city. It's best to do this as soon as possible, as it can take upwards of six weeks or more before you receive permission to build.
Hiring the Right Team
After you've planned your pool and gotten the green light form the city, you should look into booking the right pool builders to construct your pool. The pool builders here at Odyssey pools are ready to help bring your dream pool to life, but you have to be quick to book before the busy season starts.
Planning as soon as possible is the best way to make sure that you get your pool built before next summer. If you're looking to hire pool builders, make sure to contact us here at Odyssey pools for your backyard pool needs.